Frequently Asked Questions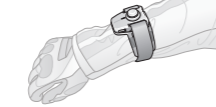 After you wear the Wristband Remote, put the strap inside the rubber band.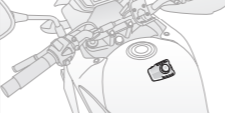 You can use the included hook and loop fasteners to attach the Wristband Remote on your motorcycle. In this case, take off the straps.
Basic controls for the Wristband Remote.
Compatible Models: Impulse, Stryker, Outrush R, Momentum Lite, Momentum, Momentum INC, Momentum Pro, Momentum INC Pro, Cavalry, Cavalry Lite, Savage, SPIDER ST1, SPIDER RT1, 50S, 50R, 50C, 5S, 30K, 20S, 20S EVO, SRL, SRL2, ACS10, 10U, 10UPad, 10C, 10C Pro, 10C EVO, 10R, 10S, SF1, SF2, SF4 and SFR.
The Wristband Remote is only compatible with Sena headsets that have Bluetooth 4.0 or higher. This includes:
30K

20S/20S EVO

10S

10R

10C

10U/10UPad

Cavalry Helmet