Frequently Asked Questions
The Sena Device Manager allows you to upgrade firmware and
configure settings directly from your PC.

• Download the Sena Device Manager at sena.com.
1. Press and hold the Jog Dial for 5 seconds.

2. Rotate the Jog Dial clockwise until you hear a voice prompt, "GPS
    Pairing".

3. Select SPIDER ST1 in the list of
    devices detected. If your Bluetooth
    device asks for a PIN, enter 0000.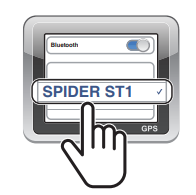 Answer a Call

End a Call

Reject a Call                                      Make a Call with Voice Dialer


Play/Pause Music

Track Forward/Backward

You can start sharing music with one participant of a Mesh Intercom.
Both you and a participant can remotely control music playback such as
track forward and track back.
1. The Creator will send a request message to participants connected
    during Mesh Intercom.
2. The Creator will share music with the first participant that accepts
    the request.
  [Participant] Accept                              [Participant] Refuse
If a headset in an Open Mesh or Group Mesh resets the Mesh, it will
automatically return to Open Mesh (default: channel 1).