Frequently Asked Questions
The Sena Device Manager allows you to upgrade firmware and
configure settings directly from your PC.

• Download the Sena Device Manager at sena.com.
1. Press and hold the Center Button for 10 seconds.

2. Double tap the (+) Button.

3. Select SPIDER RT1 in the list of
   devices detected. If your Bluetooth
   device asks for a PIN, enter 0000.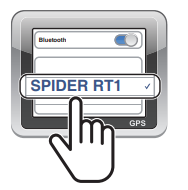 When Mesh Intercom is enabled, the SPIDER RT1 will automatically
connect to nearby SPIDER RT1 users and allow them to talk to each
other by pressing the Mesh Intercom Button.
Mesh Intercom On

Mesh Intercom Off