Frequently Asked Questions
1. Press and hold the (+) Button and Center Button for 10 seconds when the R1 EVO is turned off.

2. With your mobile phone in Bluetooth-pairing mode, select Sena R1 EVO in the list of devices detected.
3. If your mobile phone asks for a PIN, enter 0000.
Making and Answering Calls

Answer a Call                                                      End/Reject a Call

Make a Call with Voice Dialer

When Mesh Intercom is enabled, the R1 EVO will automatically connect to nearby R1 EVO users and allow them to talk to each other by pressing the Center Button.
Mesh Intercom On                                              Mesh Intercom Off

Users can enable/disable the microphone when communicating in a Mesh Intercom. Enable/Disable the Microphone

If the Mesh Intercom communication experiences interference because other groups are also using the channel 1, change the channel. You can select one of 1 to 9 channels. 1. Enter into the Channel Setting.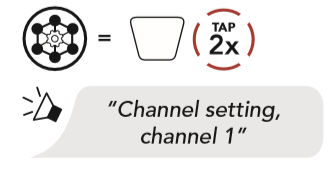 2. Navigate between the channel. (1 2 ••• 8 9 Exit 1 •••)


3. Save the channel.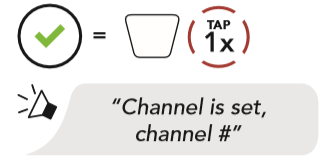 4. Exit the Channel Setting, tap the (+) Button or the (-) Button until you hear a voice prompt, "Exit", and tap the Center Button.


FM Radio On                                                 FM Radio Off

Seek Stations Forward                                  Seek Stations Backward

Save Stations
You can save current station from the Sena Device Manager or the Sena Cycling App.
Start Scanning                                               Stop Scanning

Save Stations
You can save current station from the Sena Device Manager or the Sena Cycling App.

LED On
LED Off

LED On and Solid                                               Night Flash

Day Flash                                                             LED Off



You can control the LED Taillight through the Sena Cycling App.
Firmware Upgrades
The Bluetooth system supports firmware upgrades. You can upgrade
the firmware using the Sena Device Manager. Please visit sena.com to
check for the latest software downloads.
When the Bluetooth system is not working properly, you can easily reset the unit: 
1. Locate the pinhole reset button below Sena logo at the back side of the helmet.
2. Gently insert a paper clip into the hole and press and Fault Reset Button for 1 second with light pressure.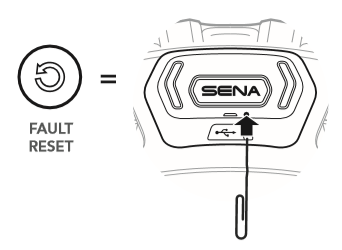 To erase all of your settings and start fresh, the system can be restored to factory default settings using the factory reset.