Frequently Asked Questions
You can start sharing music with one intercom friend using Bluetooth
stereo music during a two-way intercom conversation and one
participant of a Mesh. If you start sharing music while Bluetooth
intercom and Mesh Intercom are running at the same time, then music
shared during Bluetooth intercom will take priority over music shared
during Mesh Intercom.

Creating a Group Mesh
Creating a Group Mesh requires two or more Open Mesh users.
              Open Mesh                                       Group Mesh

1. To enter Mesh Grouping to create a Group Mesh, press and hold
    the Mesh Intercom Button for 5 seconds on the Bluetooth system of
    the users (You, B, and C).

2. When Mesh Grouping is completed, the users (You, B and C)
    will hear a voice prompt on their Bluetooth system as Open Mesh
    switches to Group Mesh.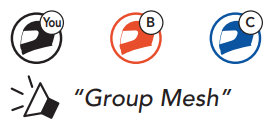 SIP allows you to quickly pair with your friends for intercom
communication by scanning the QR code on the SENA
MOTORCYCLES App without remembering the button operation.
1. Pair the mobile phone with the Bluetooth system.
2. Open the SENA MOTORCYCLES App and tap


    (Smart Intercom Pairing Menu).
3. Scan the QR code displayed on your friend (B)'s mobile phone.
    • Your friend (B) can display the QR code on the mobile phone by
       tapping

> QR code (

) on the SENA MOTORCYCLES App.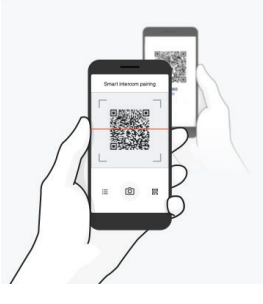 4. Tap Save and check that your friend (B) is paired with you (A)
    correctly.
5. Tap Scan

 and repeat steps 3-4 to pair with Intercom Friends (C)
    and (D).

Universal Intercom allows you to have intercom conversations with
users of non-Sena Bluetooth headsets. Non-Sena Bluetooth headset
can be connected to the Sena Bluetooth system if they support the
Bluetooth Hands-Free Profile (HFP). You can pair the Bluetooth system
with only one non-Sena headset at a time. The intercom distance
depends on the performance of the Bluetooth headset to which it's
connected. When a non-Sena Bluetooth headset is paired with the
Bluetooth system while another Bluetooth device is paired via Second
Mobile Phone Pairing, it will be disconnected.

4. Put the non-Sena Bluetooth headset in Hands-free Pairing Mode. The
    Bluetooth system will automatically pair with a non-Sena Bluetooth
    headset.