Frequently Asked Questions
To power on the FreeWire, slide the Power Switch to on. The Blue LED will turn on. To power off, slide the Power Switch to off.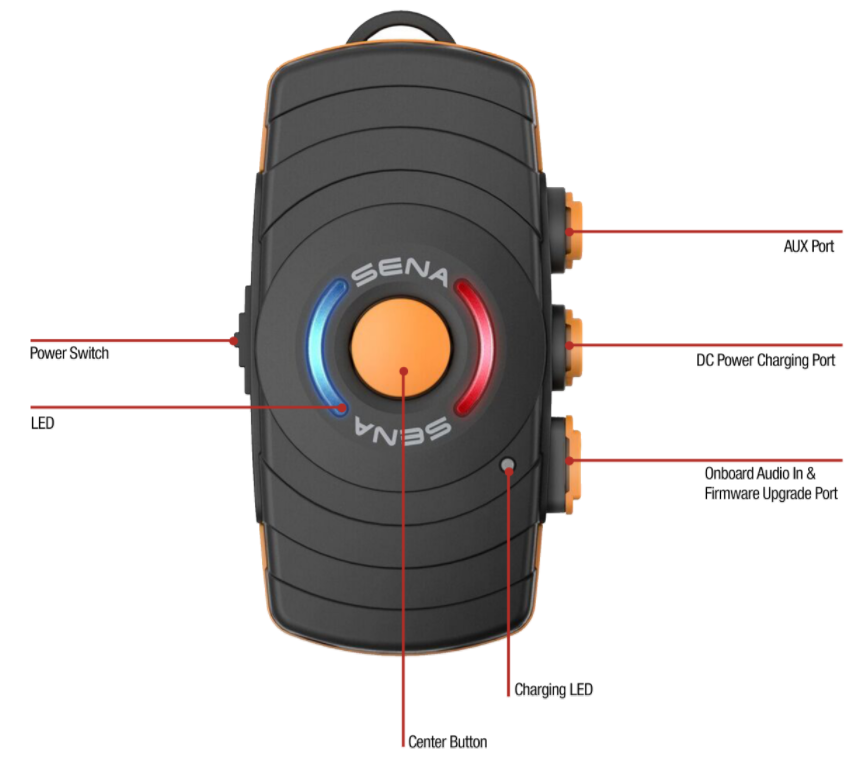 It takes about 2.5 hours to be completely charged. The Charging LED will change from solid red to solid blue when it is completely charged.
Note:
The FreeWire is automatically powered on and off by using the cigarette charger included in the package.
Battery Check
When the FreeWire is powering on, the Red LED flashes rapidly indicating the battery level.
4 flashes = High, 70 ~ 100%
3 flashes = Medium, 30 ~ 70%
2 flashes = Low, 0 ~ 30%
Pairing the Freewire with Sena Bluetooth headset
The FreeWire must be paired with a Sena Bluetooth headset to connect with the onboard audio system. Please take the following steps to pair with your Sena Bluetooth headsets.
1. Turn on your Sena Bluetooth headset and enter Mobile Phone Pairing Mode, following the Sena Bluetooth headset manual.
2. Turn on the FreeWire and press and hold the Center Button for 5 seconds until the LED flashes red and blue alternatively.
3. When the pairing is successful, the blue LED flashes slowly

If the FreeWire is not working properly or is in a faulty status for any reason, you may reset by pushing the small reset button at the back of the FreeWire Unit. By using a paperclip or a pencil tip, lightly press and hold the reset button for 1 second. The FreeWire will be switched off and automatically switched on again. Turn the FreeWire back on to use it. However, this will not restore the FreeWire to factory default settings
Reset to Factory Default Settings
1. Power on the FreeWire and press the Center Button on the FreeWire for 14 seconds until the LED becomes solid red.
2. Within 10 seconds, press the Center Button to confirm reset. The FreeWire will be restored to factory settings and returns to standby mode.
Note:
If you reset your headset paired with your FreeWire to factory default
settings, you should reset your FreeWire to factory default settings as well
in order to pair them again.