Frequently Asked Questions
Press and hold the Center Button and the (+) Button at the same time for 1 second to turn the helmet's Bluetooth System on or off.
 Powering On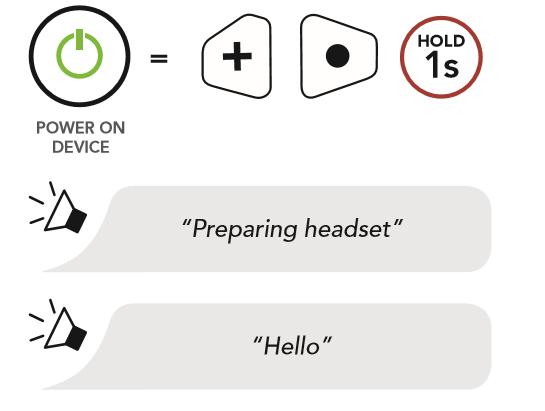 Powering Off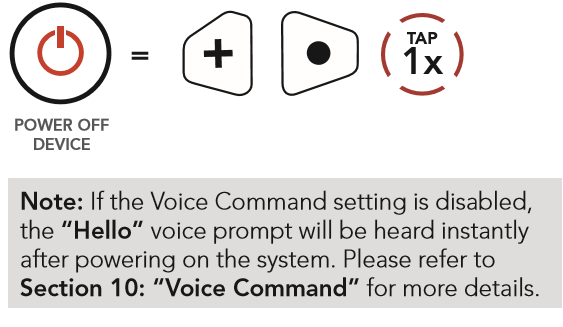 You can share the music you're listening to with an Intercom Friend during an intercom conversation. To start or terminate sharing music, press the (-) Button for 3 seconds during an intercom conversation until you hear a double beep. Both you and your Intercom Friend can control music playback.
Sharing Music with an Intercom Friend during Intercom Conversation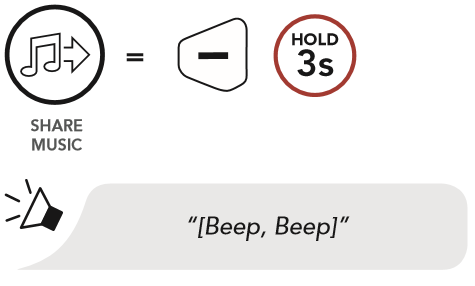 To start video recording, press and hold the Camera Button for 1 second. To stop video recording, press and hold the Camera Button for 1 second.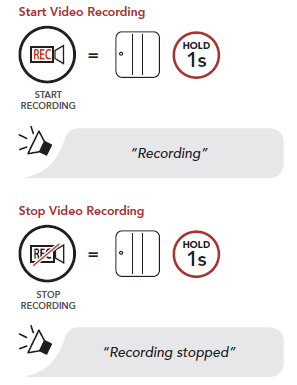 Below is a table of approximate video recording times to microSD card size in specific resolutions and frame rates.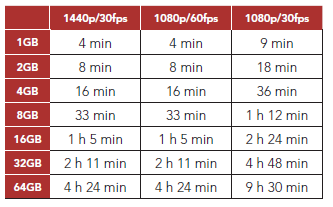 Note:
- MicroSD cards up to 64GB are compatible. Using a Class 10 microSD card is suggested.
- You cannot record videos without a microSD card.
- Your microSD card needs to be formatted using the camera system before using the camera.
- The camera system gives a warning and automatically stops recording when the microSD card is full or the battery becomes low. Your video will be saved before the camera system powers off.
- If the camera system becomes too hot, it gives a high temperature warning. Cool down the camera system before further use.
- The maximum size per video is limited to 4GB. Therefore, when the video reaches the 4GB size limit during recording, it saves and creates a new video to continue recording.
To erase all of your settings and start fresh, the Bluetooth system can be restored to factory default settings using the Factory Reset feature in the Bluetooth System Configuration Menu.
Access Factory Reset for Bluetooth system in the Bluetooth System Configuration Menu